ACCELERATE CASE CLEARANCE RATES AND IDENTIFY SUSPECT LEADS FASTER
See IDentify live in a custom online demo or get started with a trial
By submitting this form, you agree to allow Veritone to collect, store, process and use your information and data, and you agree to receive email communications from Veritone. See our privacy policy for details regarding the information that we collect and how we may use and share such information.
Veritone IDentifyTM is an AI-enabled turnkey software application purpose-built for law enforcement teams to identify suspect leads faster while saving valuable resources and money.

Connecting a perpetrator to a crime, even one caught on camera, is no simple task. With high repeat-offender rates, comparing video and photo evidence to existing arrest records is an essential technique for investigators. Veritone IDentify automatically compares your known-offender and person-of-interest records with video and photographic evidence, enabling you to quickly identify potential suspect leads for further investigation.
UNCOVER SUSPECT LEADS FASTER
Review matches found in your arrest records as a list and filter results by identifiers from your booking database such as gender, age, height, hair color, eye color, ethnicity and more to pinpoint potential suspects.
VERITONE IDENTIFY IS A BOON FOR LAW ENFORCEMENT EFFICACY
Start Identifying Suspect Leads Faster Today
CONTACT US
Establish Suspect Leads in Minutes
Compare suspects in video and photo evidence against arrest records systematically with face recognition



Harness the Power of Your Booking Database with AI
Track Persons of Interest Across Cases
Add images of suspects to a persons-of-interest database for comparison with video and photo evidence from other cases


Increase Investigator Efficiency
Share curated suspect leads for further investigation between analysts and investigators via email


Maintain Officer Safety
Run surveillance camera and mobile phone photos for known offender matches without tipping off suspects


Detect unknown faces and optionally add them to an existing person-of-interest database for future digital evidence comparison.

Share suspect leads — including appearance in evidence, along with booking information including photo, name, last known address and more — with intra- and inter-agency colleagues via email.
Mike James
Executive Director, Integrated Law and Justice Agency of Orange County
Without Veritone IDentify, Orange County agency crime analysts and investigators spend long hours sifting through arrest records, asking their colleagues, or polling the public to identify their person of interest, leaving limited time to focus on solving the crimes at hand.
Veritone IDentify is a boon for law enforcement efficacy, as it makes suspect identification in video evidence much easier and faster. The much-needed time and money savings mean our local officers will have more resources to dedicate to solving more cases.

Compare perpetrators that appear in video and photographic evidence against your booking database of known offenders systematically to pinpoint potential suspects.

Self serve easy to use interface to optimize campaign in near real time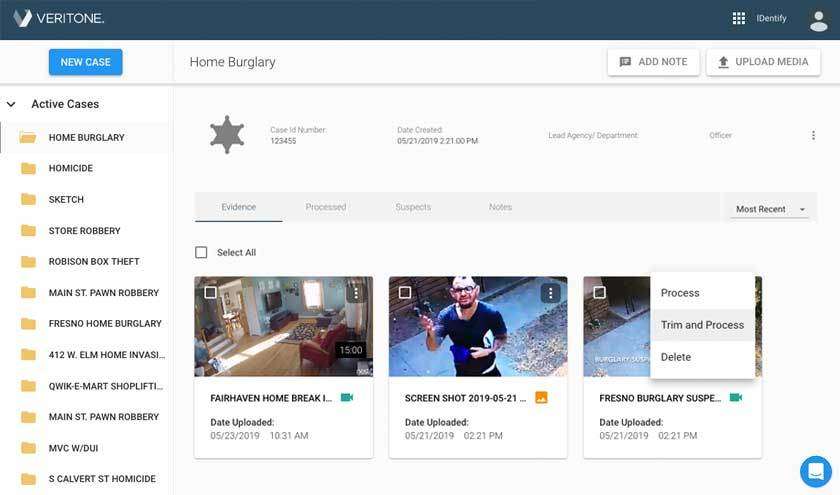 Comparative Date Range - See line over line what makes a difference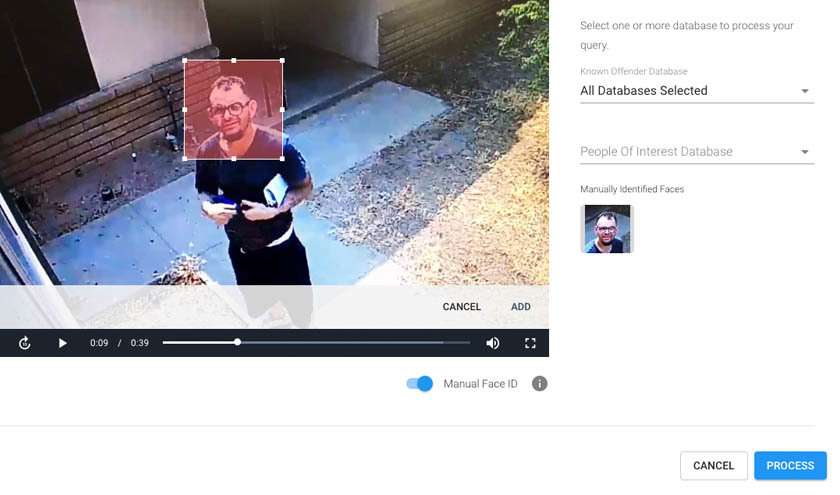 Expand the attribution window to allow for unique use cases and align with campaign goals